Creole
---

The 'Creole - Global Music Contest' is a competition for the Global Music Scene in Germany. Looking for the cultural diversity of living music traditions in Germany, the competition is open to all the bands who are curious to explore the interactions and encounters between musical worlds, genres and cultures and who present their own identity and personal sounds.
In 2006 alba KLultur initiated, conceptualised and organised the first regional competition in North Rhine-Westphalia. 2007 followed the organisation of the national competition, as well as the realisation of the regional NRW competition of 2008.

Der 'Creole - Global Music Contest' ist ein Wettbewerb für die Szene Globaler Musik in Deutschland. Auf der Suche nach der klanglichen Vielfalt lebendiger Musiktraditionen in Deutschland, richtet sich der Wettbewerb an alle die Bands, die neugierig die Wechselwirkungen und Begegnungen zwischen musikalischen Welten, Genres und Kulturen erforschen und ihre eigene Identität und persönlichen Klänge präsentieren.
2006 iniitierte, konzipierte und veranstaltete alba Kultur den ersten Regionalwettbewerb in NRW. 2007 folgte die Organisation des Bundeswettbewerbs, sowie die Durchführung des Regionalwettbewerbs NRW 2008.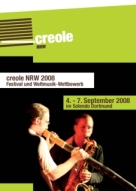 Programm

Siegerbands:
Duo SeidenStrasse
Furiosef
East Affair


The creole NRW 2008 world music competition was one of the first projects to be awarded the new 'Cultural Events' label which the Council of Europe is giving every year to a small number of exceptional and innovative cultural and artistic projects in Europe which convey a strong message related to the Council of Europe's work.

Programm

Siegerbands:
Ahoar
Mariana Sadovska & Borderland
Tapesh 2012