alba KULTUR - International Office for Global Music
---
Since 25 years alba KULTUR has been working as an independent office, specialising in global music cultures ranging from classical non-Western music and orally transmitted traditional music and folk to comtemporary hybrid and creolised fusion and crossover projects that all express and actualise the concept of cultural diversity in a globalised world.

Our work is based on the philosophy that music is a fundamental human expression that creates and supports social and cultural identity. Dealing with both, one's own music and with foreign music cultures helps to establish openness, tolerance, respect, self-awareness, sensitivity and the ability to give and receive criticism - all valuable criteria for a peaceful living together and the development of a vibrant civil society. We primarily work in the following areas:


artist management
curatorial work
concept development and consulting
cultural education
music and sustainable development
cultural political commitment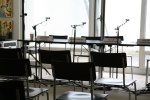 alba KULTUR regularly participates at international conferences, symposia, excursions etc.
Find out, where we could meet next to exchange ideas, new projects and future collaborations !



more...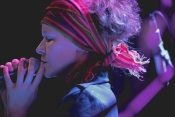 Composer, Vocalist, Multi-Instrumentalist and Actress
As a singer, multi-instrumentalist, and actress, experienced with multi-media performances, workshops and musical theatre productions, Mariana Sadovska is an internationally renowned and award-winning artist and composer. Born in Lviv, Ukraine, where she was trained as a classical pianist, the Cologne-based artist has continued her artistic journey in various directions ...

more...